The Swiss franc declined, losing about 1% to 0.8920 after a fresh batch of macroeconomic data. The unemployment rate remains at 1.9%, a historic low. But at the same time, inflation is surprising, falling short of forecasts.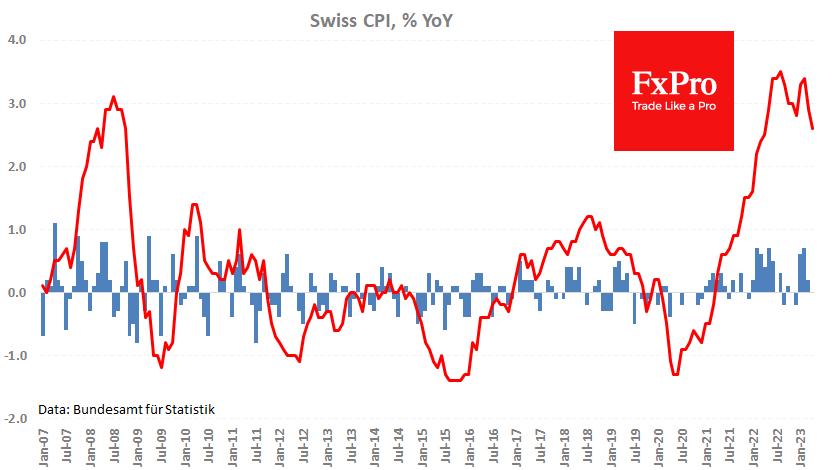 Swiss CPI slows to 11-month low
The consumer price index was virtually unchanged over the past month, and the annual inflation rate fell from 2.9% to 2.6%, while economists, on average, expected growth of 0.2% m/m and 2.8% y/y, respectively. The current inflation rate is the lowest in the last 11 months and very close to the SNB target.
The latter fact has spurred speculation that the country's central bank will refrain from further tightening policy after raising rates by 225 points in the current monetary cycle. However, the head of SNB Jordan is in a hurry to moderate these expectations, not ruling out further rate hikes.
Switzerland's significantly lower inflation is mainly due to the performance of the franc, which is now close to the same levels from which it began its decline against the dollar in early 2021. For comparison, the EURUSD is now 10% lower; at the worst point, it exceeded 22%.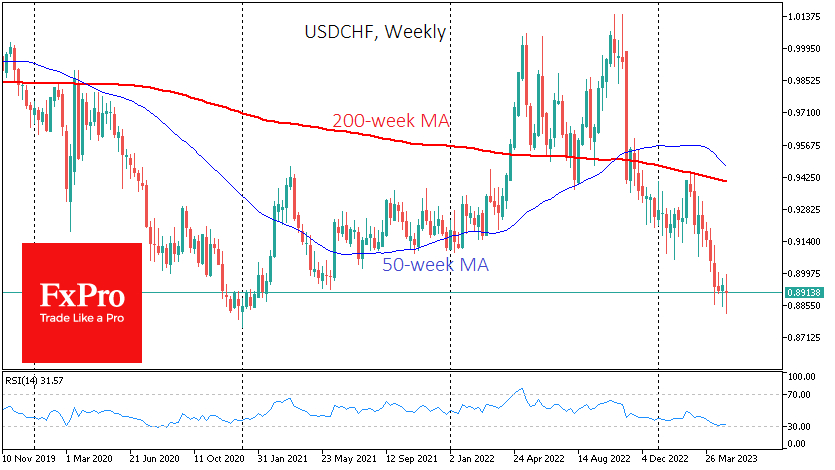 Slipping below 0.8900, USDCHF closes to turning point of the last 11 years
The franc's strengthening accelerated in March, apparently due to the problems of US banks, which caused steady demand for safe havens such as Switzerland. However, having slipped below 0.8900, USDCHF was close to the levels from which the SNB turned the pair to growth over the past 11 years.
It is hard to believe that this time the exchange rate will be reversed again by the intervention of the Central Bank since this would contradict the primary policy course. But over the years, support has been formed in this area, which will take a lot of work to pass.